AutoSync
Ever wanted to syncronize files across multiple computers, or to a server for backups? AutoSync will let you do just that.
Autosync uses WinSCP to transfer/sync files over sftp/ftps/ftp/scp with your server, and other computers running AutoSync.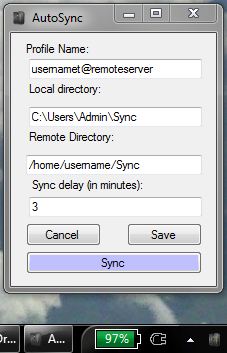 The free version will automatically sync 1 folder. The Registration key is $2 and will unlock subfolder syncing.
- Download now Here
Purchase the key for $2:

Requirements:
- Windows (xp/vista/7)
- WinSCP (included in download) or you can download it
here
.
- .Net 4.0
here
.
- Some server to connect to: sftp/ftps/ftp/scp
more info
.